The Sky-Watcher AZ-EQ5 SynScan GoTo mount is equally useful as an EQ mount or operating in AZ mode. The AZ-EQ5 SynScan features hybrid stepper motor drives on both axes for smooth slewing at up to 4.2° .The mount accepts the standard ST-4 style autoguider input for astrophotography, and also has a DSLR shutter control port. Supplied with a SynScan handset with dual AZ/EQ firmware, it can automatically find and track 42,900+ celestial objects with its database.
The AZ-EQ5 GT mount is equipped with an index on its R.A. worm. Thus the motor controller can keep track of the current position of the worm. After a proper PEC training routine, in which the training data is stored in the motor controller permanently, a user can start the periodic error correction (PEC) at any time to improve the tracking performance for short focal length astrophotography. A training process is not required in the next observing session (assuming that the polar alignment is always accurate). Thus this is a Permanent Period Error Correction (PPEC). A user can train the mount with manual guiding or auto-guiding. For detailed instruc­tions, please refer to the relevant section in the SynScan hand controller instruction manual.
Batch Exposures Function
The AZ-EQ5 GT mount is equipped with two SNAP ports which can control the shutter releas­ing of two cameras. Working with the SynScan hand control's "Camera Control" function, a user can take batch exposures when doing astrophotography. Up to 8 groups of "Exposure-time & Frames" combinations can be set on the SynScan hand controller. For detailed infor­mation, refer to the SynScan hand control's instruction manual.
Freedom Find – tracking made easy!
With the patented Freedom Find (dual-encoder) technology which allows the telescope to be moved manually or electronically in either axis without losing its alignment or positional information. After moving to a new object the telescope will automatically begin to track the new object accurately. No re-setup is required in one observing session.
Equatorial and Alt-Az dual mode

Autoguider port, USB-to-Serial port, DSLR shutter control port

Whisper slewing, smooth PE curve

Freedom Find

Weight 40% of an AZ-EQ6

Compact mount and foldable pier stand

Full latitude (0 to 90 degree) range

Optional Polar scope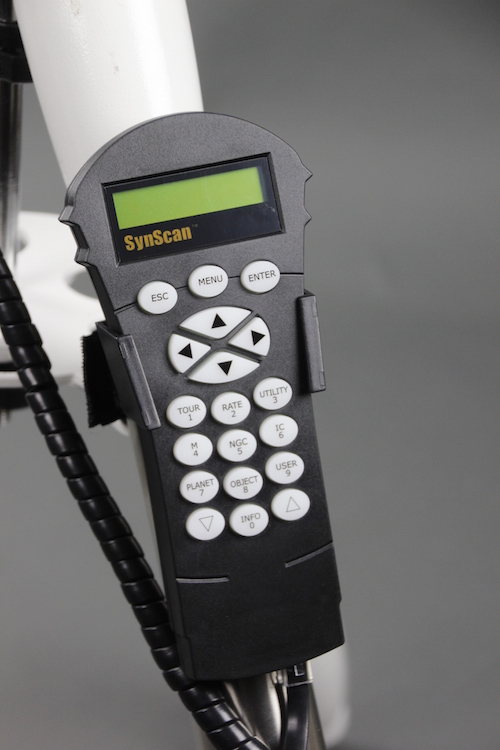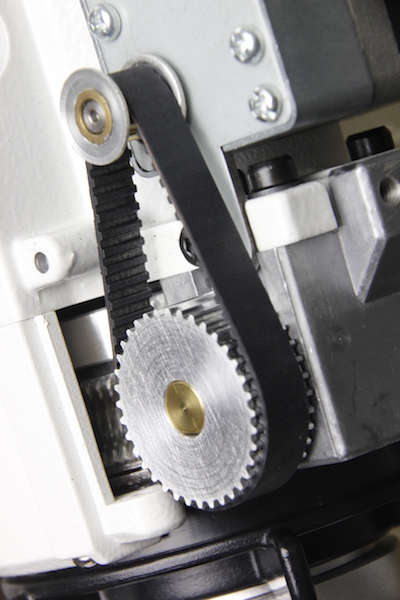 SynScan Hand Control Belt Driver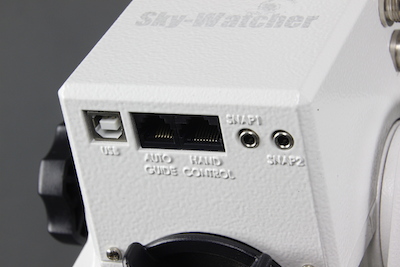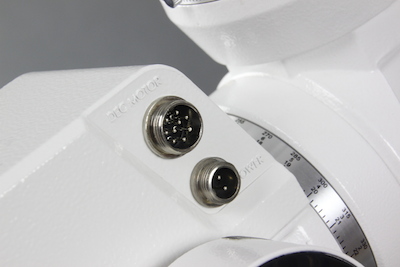 Ports Power Port
الخصائص
ارتفاع الحامل ثلاثي القوائم

محوري "ألتازيموت" / قطري "إكواتيريل" وضع مزدوج


2 x 3.5kg

المحرك

11kgs; 5kgs

وزن الشحنة

47x45x31cm3;89x28x34cm3
15kg

الحمولة

محوري "ألتازيموت" / قطري "إكواتيريل"

كجم6.1

حامل ثلاثي القوائم

(وزن الحامل 7.7 كجم)

كحد أقصى 4.2 درجة / ثانية


0.125X ، 0.25X ، 0.5X ، 0.75X ، 1X